Renaming a file or folder in all recent versions of Windows is a fairly easy task. By right clicking on the file/folder and selecting Rename, you can directly change its name.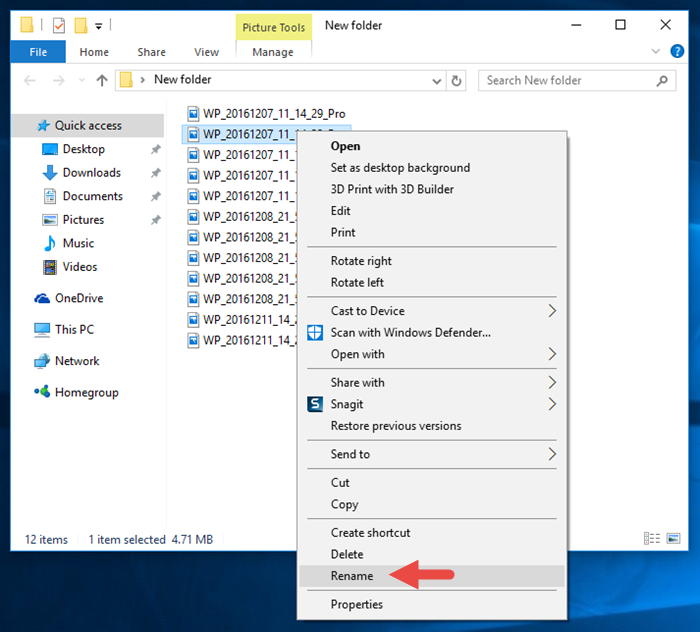 Hint: Press the F2 key to rename a selected file/folder
However, what you can do if you want to rename multiple files or folders? Certainly, the above procedure does not help at all. Let's see below how to achieve this.
Rename multiple files/folders using the same name
So, suppose that we have 10 files with different names and we want to rename them all under a common name and a serial number as well. Obviously, you know that you can not have two different files with exactly the same name and extension in a folder.
To give you an example for this case: You shot 10 photos with mobile / camera from an event and the file names are like DSC502, DSC503, etc. To be able to identify them more easily, you should rename them to Birthday 1, Birthday 2, etc.
How to quickly rename all these photos in such case?
Select all the files to be renamed and press the F2 key. Alternatively, right-click on a file (while all selected), and then click the Rename option from the context menu. Enter the (common) name that you want your files to have and then press Enter to save.
As you will see, the files have the same name, except that at the end of the name are distinguished by a serial number.
So simple, you save some time by renaming each file individually.
Rename files one to one with a different name
Suppose now that we have 10 files you want to rename, but we want to give a unique name for each file separately. Yes, we can right-click and rename the file for each file, but this process requires leaving one hand on the mouse and generally require more actions.
For this case, the trick is to use the TAB key.
Select a file and press the F2 key to activate the renaming action. Alternatively, click on the corresponding option after you right-click the file.
After you rename the file, press the TAB key. As you will see, pressing TAB takes you to the next file in renaming mode.
So you can rename one file after another without having to do additional actions with the keyboard or mouse. If you want to skip renaming a file using this method, simply press TAB again to move to the next file.
Hint: With the combination of Shift + TAB keys, you can move to the previous file, commonly you "go" a position back.